Nintendo patents Tears of the Kingdom loading screen, abilities, map and more
Several of Link's abilities were previously revealed in 2021 via patent filings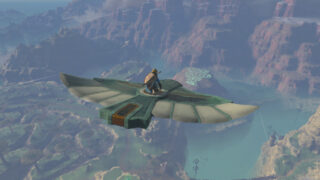 Nintendo has patented some of Link's abilities in The Legend of Zelda: Tears of the Kingdom, as well as other elements of the game.
As reported by Automaton, Nintendo has filed several patents related to Link's Ultrahand and Fuse abilities from the game.
The company has also patented the game's loading screen. In Tears of the Kingdom, when fast travelling between areas, the game will show the player where they currently are on the map, and will then transition to the new location after the loading is complete.
Also included in the filing is a patent relating to the inability of the player to grab an object that they are already standing on. For example, if Link is standing on a block, the player can't then use Ultrahand to move the block, and thus Link, infinitely.
Nintendo was also able to patent the process of Link standing on a moving object, and then continuing in the direction of that moving object.
Before Tears of the Kingdom was released, several of Link's abilities were actually uncovered via patent filings in 2021.
The Legend of Zelda: Tears of the Kingdom has been a massive success for Nintendo since it was released earlier this year.
Earlier this month Nintendo confirmed that the game has sold 18.51 million units of the game as of June 30, 2023.
The Legend of Zelda: Tears of the Kingdom was released on May 12 and sold 10 million copies worldwide in its first three days, according to Nintendo. That made it the fastest-selling game in the history of the series and the fastest-selling Nintendo game for any system in Europe and the Americas.
Nintendo said in its latest results that sell-through of this one title constituted approximately half of the first-party software sold this fiscal year.
Related Products
The Legend of Zelda: Tears of the Kingdom (Switch)
Other Products
Some external links on this page are affiliate links, if you click on our affiliate links and make a purchase we might receive a commission.